Hello! Today I'm going to show you how to make

custom skyboxes

, adding them into

Radiant

and using it into your

own map

!
Don't you ever struggled trying to find the correct sky for your map, but you weren't not able to? Did you noticed that many textures are similar, and many other are just
the same
?
For this tutorial, I'm going to assume that you
know
how to set up and create a map, how to add spawnpoints and how to run it.
Programs that we are going to use:
CoD2 Mod Tools: Radiant & Asset Manager

Image editor: Photoshop or Gimp

As PhotoShop isn't free, I'm going to use
Gimp
in this tutorial.
You can find CoD2 Mod Tools easily in google, if you have any problem finding it, contact privately with me.
---
Important notes to keep in mind:
You can use almost every landscape photography in your map.

Max supported size is

1024x1024

(as far I know, correct me if I'm wrong), you can use 512x512 pictures in your skybox, but they will look like

bad quality

. 

Supported format is .tga, but you can convert almost every image file into .tga, so don't worry.

---
Index:
1)
Find and download your skybox's images
2)
Rename them properly
3)
Resize them
4)
Convert them into .tga
5)
Create the texture using Asset Manager
6)
Use it in Radiant
7)
Load them properly into your map
---
1) Find and download your skybox's images
If you search in google, you can quickly find many skyboxes, but keep in mind the aforementioned notes, the texture should be 1024x1024, and they should be a image file.
I've found this website, where you can freely search and download the sky that you like the most.
http://www.humus.name/index.php?page=Textures
Thank you, Humus!
In this tutorial, I will be using this one: 

As you can see, the images are 2048x2048, but that's not a problem, since we can resize them easily.
2) Rename them properly
Once downloaded, the 6 images will probably come with this suffix in the name:

If it doesn't, you will have to rename them manually.
Suffix meanings: 
ft = front
lf = left
up = up / top
bk = back
rt = right
dn = down / bottom
The "ground" image must be renamed sky_
yourskyname
_dn.jpg/bmp/whatever, as "dn" means it will appear down. Same with the rest of the images.
In Humus images, they appear like this: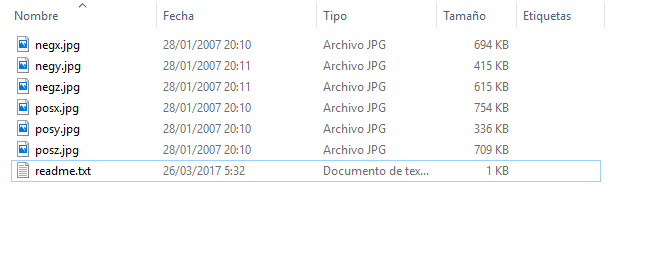 Rename them like this:
negx.jpg -> _bk
negy.jpg -> _dn
negz.jpg -> _lf
posx.jpg -> _ft
posy.jpg -> _up
posz.jpg -> _rt
This is what I got:

Note that sky_darkfog is a random name, use your own name to your sky.
3) Resize them
As those images are 2048x2048, I will use Gimp to resize them. If your images are 1024x1024,
skip
this point.
Run Gimp, Press Crtl+O to open a file, and select the first of all.
Click on Image, and then Scale Image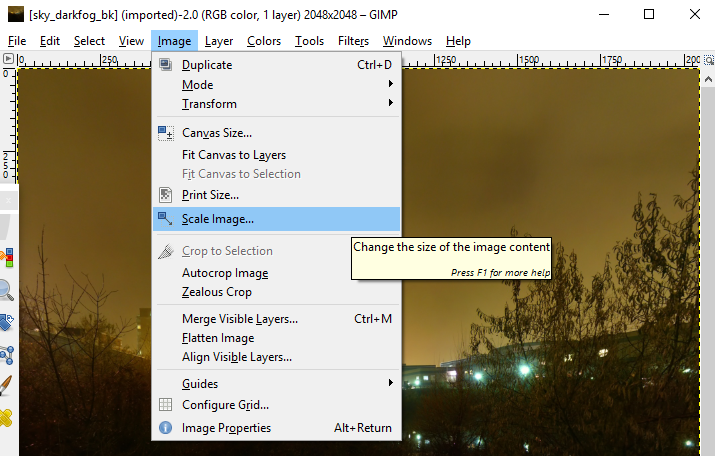 In Width, type 1024, and press enter, Height will change to 1024 too. Make sure both Width and Height is 1024. Click Scale and that's all. Convert all 6 images.
You won't be able to save then in .tga, so maintain all images opened.
4) Convert them into .tga
Once you have 6 images in 1024x1024, it's time to convert it into 6 .tga files so Asset Manager can create the sky brush.
Click File -> Export As... Or Crtl+Shift+E
On the top, rename the file from
sky_

yoursky

_bk.jpg
to
sky_

yoursky

_bk.tga
When asked if RLE compress, tick yes, and in Origin select Bottom left. Click Export.
Do the same with all other images, eventually you will have 6 .tga 1024x1024 images.
5) Create the texture using Asset Manager
Navigate into your Call of Duty 2 folder and make a new folder, named
texture_assets
, inside of it, I made another one named
skybox
, so the source is
Call of Duty 2\texture_assets\skybox
Move the 6 .tga images inside that folder.
Go into Call of Duty 2\main and create two folders, one named
materials
and another one named
images
, if you didn't have it.
Open Asset Manager, running it as Administrator (Right click, Run as admin)
Type
the name of the sky, select
material
from the list and click
New Entry
. If a window pop ups, press OK.
Now a list of plenty settings will be displayed. Make sure to configure it the same as mine: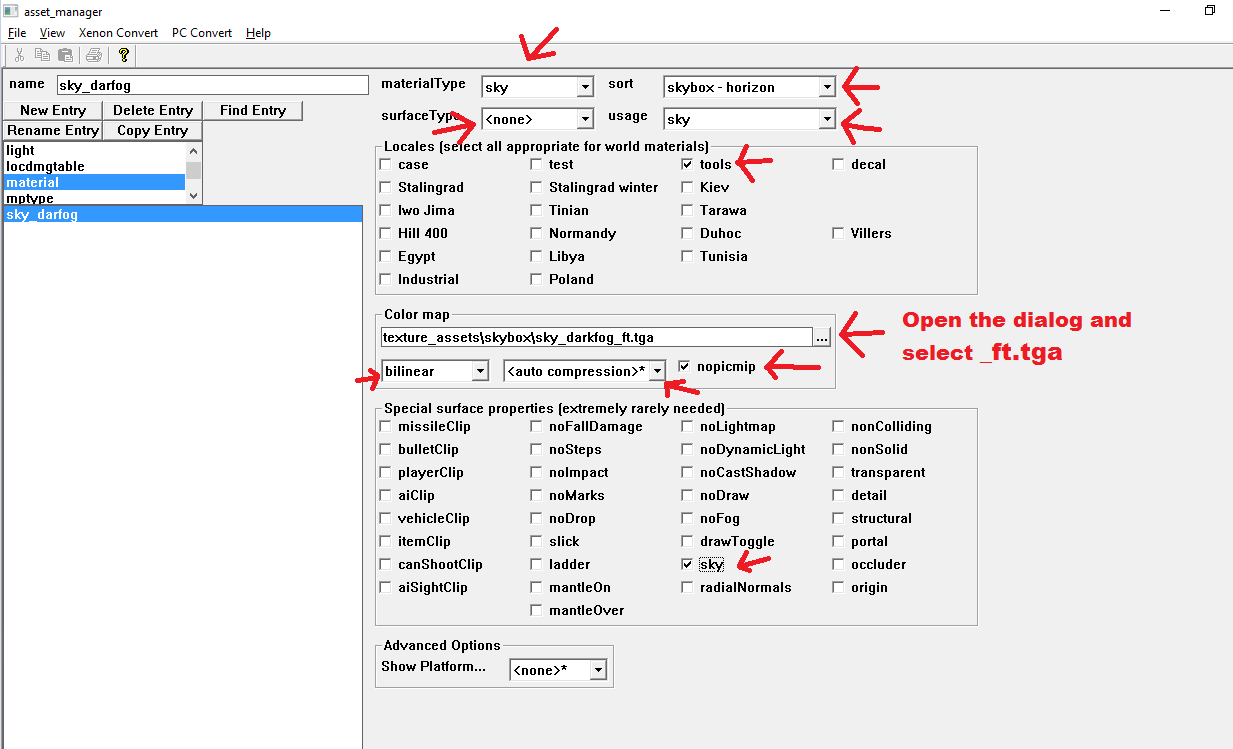 Now, click File and Save, and save it (inside the skybox folder, for example) as your sky name, mine is: sky_darkfog. (Don't type manually any extension, it is saved as a .gdt automatically)
Press
F10
After the dialog ends, press any key. 
Volià! Your sky texture is saved in /main/ images and materials, so it is ready to use in Radiant!
6) Use it in Radiant
Open Radiant, create a new map if you don't have any, and create/replace your skybox with your new sky texture. It should appear in the texture selection box if you click on Textures -> Usage -> Sky.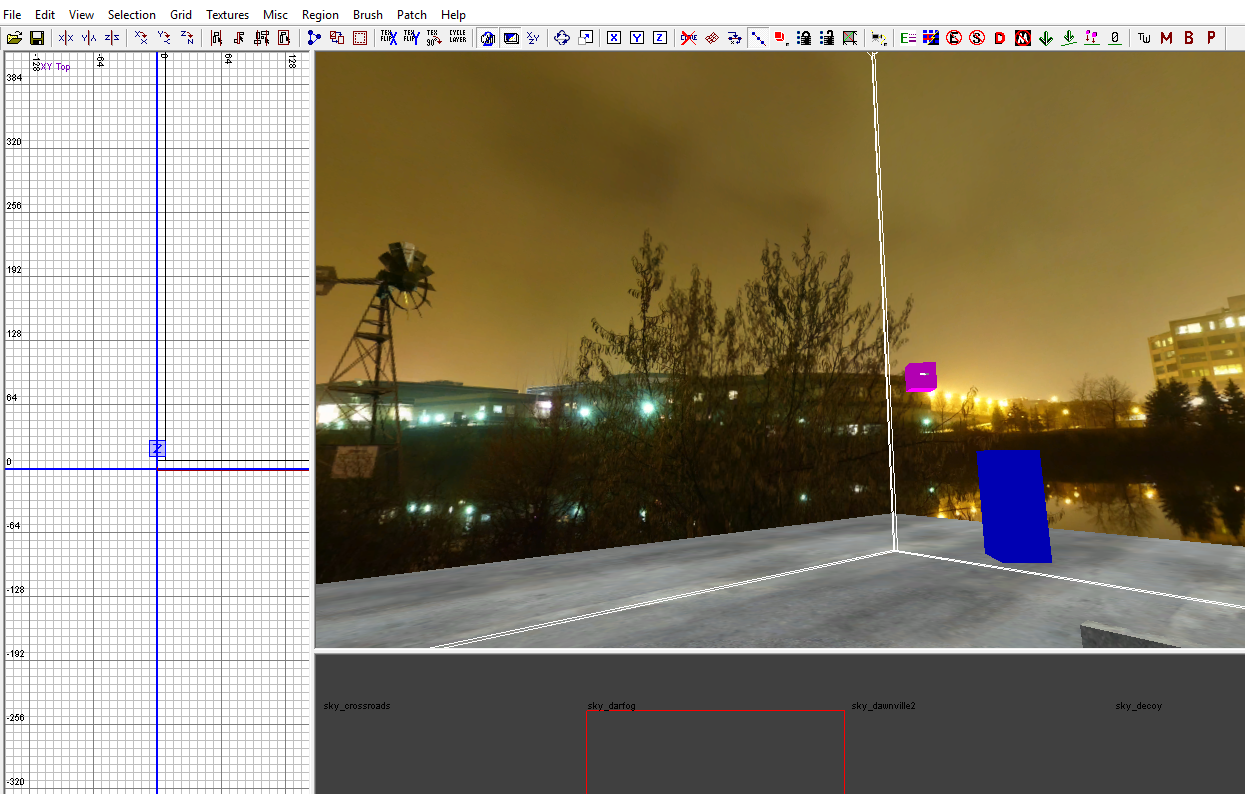 7) Load them properly into your map
In *|UP|* map rules, you must add your map name before the texture name, so if you are sending your map to us, make sure you rename your sky texture and you add it into your map .iwd.
Navigate into /main/images and /main/materials, find your sky texture and rename it as
yourmapname_sky_yourskyname
and
yourmapname_sky_yourskyname.iwi
Create 2 folders inside your mp_map.iwd, named images and materials, and drag those files inside:
yourmapname_sky_yourskyname.iwi
  inside images
yourmapname_sky_yourskyname
  inside materials
---
That's all, I hope you understand it all, feel free to comment, ask, or whatever you want :]
Sources:
http://wiki.modsrepository.com/index.php...m_Skyboxes
http://www.humus.name/index.php?page=Textures
This is how it looks in-game!